CONNECTING ROD FOR EARTH MOVERS
We supply connecting rod for automotive OEM i.e. Earth Mover. We maintain all OEM standards from first process to Final Process with its final inspection" to meet OEM specification and all quality parameters.
We have been producing connecting rods of tractors for various applications like KOMSTU, CATERPILLAR, CUMMINS, IVECO, ATLAS CAPCO, STEYR, BELARUS, etc.
We manufacture connecting rods, using qualitative raw materials such as steel, aluminum, titanium, cast iron etc. (Material Standard like: 42CrMo4, C-70, EN-8D, SAE1141, etc.)
---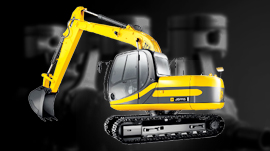 ---
Product Ranges
KOMSTU
CATERPILLAR
CUMMINS
IVECO
ATLAS CAPCO
STEYR
BELARUS